Home Page

Miriam Reed, Author & Speaker
It is with pure joy that I find myself preparing for a Louisa May Alcott matinee and evening performance at the Ed Kinney Center in Pleasanton, California, on Tuesday, 9 May 2017. Working with vocal coach Rebecca Clark Carey and with Michael Hackett, who is directing the performance, is pure delight after so many computer-intensive In Design years. Japan 1908 is published, and "China 1908" is on its way, as is the biography of David and Mary Gamble. But engaging as these projects are, the story of Louisa May Alcott is, for me, a personal story. We are, after all, both women. Fortunately, I did not have to deal with the depths of her experiences, but I have had enough of my own Life to empathize with her completely.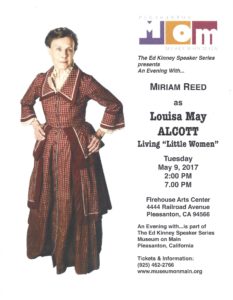 OREGON PERFORMANCES         Thursday 16 March 4 PM EAGLE POINT Public Library
                                                                    Sunday 19 MARCH 2:30 PM ASHLAND Public Library      
                                                                    Wednesday 22 March Noon MEDFORD Public Library
And such a remarkable woman! She so deserves to be known for more than Little Women, and the Alcott script tells her story, her joy and zest for living that roils throughout her lively language, her dedication and steadfastness to her self-appointed task of providing for her entire family, along with her awareness of the plight of the nineteenth-century woman. She was, as she herself proclaimed, "a woman's rights woman, though [she] was so busy proving woman's right to labor that [she] scarcely had time to prove woman's right to vote."
It is interesting to don again the corsets and stays that are emblematic of the lives of women in the nineteenth century, to remind myself and all women—and men—how in the twentieth century women donned freer clothes as they were freeing their lives. Knowing our history allows us an acute awareness of and appreciation for our lives today. I feel privileged to be able to recount her story of vitality and courage.