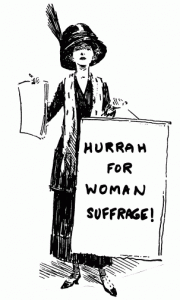 HURRAH FOR WOMAN SUFFRAGE!
Forty-minute Music CD,
Booklet with Song Lyrics,
& Work Study Questions  $15.00 
A GREAT learning tool for my U.S. History Class.
—Barbara J. Rozek
---
The music CD is accompanied by a booklet with song sheet, which provides the lyrics of the Suffrage songs for a Sing-A-Long as well as a brief history of the songs and their relationship to the history of Woman Suffrage. These songs are an excellent tool for teachers at all levels – a history lesson and a feminist critique for involving both the casual listener and the serious student. Also included is a Classroom Work Study sheet with stimulating study questions by Barbara J. Rozek.
Titles of Songs
"Hurrah for Woman Suffrage!"
"Foremother's Hymn"
"Kansas Suffrage Song"
"Rally for the Right"
"God Speed the Right"
"Woman Suffrage Jubilee"
"The Woman's Cause Is Right"
"The Taxation Tyranny"
"Rally for the Right"
"Vote It Right Along"
"Keep Woman in Her Sphere"
"Uncle Sam's Daughter"
"Winning the Vote"
"Yankee Doodle Revised"
"I Am a Suffragette"
"Weak Little Woman"
"The Near By and By"
For additional information and recordings of feminist music, see the rich website of Gerri Gribi at www.CreativeFolk.com.