Louisa May Alcott: Living Little Women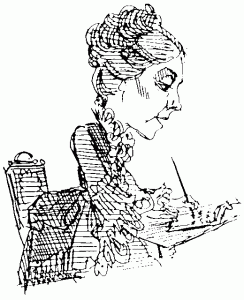 LOUISA MAY ALCOTT
Living Little Women
Forty-minute Solo Play
From the Writings of Louisa May Alcott
"As good as they come!"
–Michael Bauman, Executive Director,
Missouri Humanities Council
Living Little Women is the true story of Louisa May Alcott's growing up with a brilliant, eccentric mother; a Transcendentalist philosopher father; and Ralph Waldo Emerson, Henry Thoreau, and Nathaniel Hawthorne as friends and neighbors. It is a much more tortured, much more dramatic story of love, tenacity, and courage than the idealized story Alcott offers in Little Women.  She pulled not only herself out of the grinding poverty bequeathed to her by her genius father, but took on as well the masculine role of provider and sole support for all six members of her family.
WHAT OUR AUDIENCES SAY
Pleasanton Museum on Main, CA
"Miriam's use of voices, objects, primary sources, and movement
provided a truly captivating and authentic performancee." 
Westover School, Middleburg, CT
 "Dressed authentically…,Ms. Reed presented her subject
with realism, insight, and energy."
.
FROM: Westover School, Middlebury, Connecticut
January 25, 2005
On Friday evening, November 26th, we at Westover School had the pleasure of witnessing a remarkable one-woman performance by Miriam Reed, . . . a tour-de-force presentation of the life of Louisa May Alcott drawn from Ms. Reed's own extensive research as well as from quotations directly from Alcott's journals. As we are a school for girls in grades nine through twelve, the subject was especially appropriate, and the audience was captivated from the moment Miriam Reed took the stage. Dressed authentically in a completely layered , richly textured costume featuring layers of petticoats (surely a challenge for an actress under lights), Ms. Reed presented her subject with realism, insight, and energy. Despite the intrinsic limitations of a one-woman show, Reed presented Alcott in a varied and thought provoking succession of vignettes, sometimes reading from her diary, sometimes reflecting on significant events in her life, and twice launching into plays-within-a play in which Reed portrayed Alcott and her sisters as the girls acted out melodramatic productions they had written and performed for the family. These were high points in the performance and elicited enthusiastic applause.
A measure of the success of Ms. Reed's visit was the conversation and discussion that followed. Students talked about which of the Little Women books they had read, they asked teachers about some of the events alluded to in the play, a European history class picked up on some feminist issues suggested in the production, and the next day I saw a pair of our students re-enacting one of the girls' plays, complete with melodramatic gestures and excesses! I was a pleasure having Miriam Reed with us, and it is a pleasure to recommend her productions to you.
Sincerely, 
[signed] Terry Hallaran, director of Studies
Westover School, Middlebury CT 06763